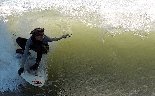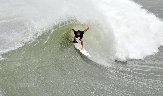 Earl Swell, Surf City, NC
(September 3rd, 2010)
Here's some nice shots by Adam Hawley of the Earl's 14 to 17 second swell At Surf City Thanks to Dan Pearson for sending us these.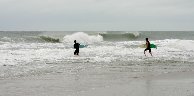 Wrightsville Beach 5-26-2010, 12pm
(May 26th, 2010)
Wrightsville Beach, out in front of Dino's. Not sure where the surfers were, nobody was out. I had to walk from the pier down to Dino's just to get these guys.

November Sessions
(November 23rd, 2009)
Cody Leutgens, Michael Powell & friends out from C street to Mercer's Pier catching what has been some pretty consistent waves. photos: Keith Ketchum www.keithketchum.com